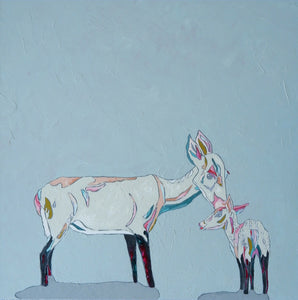 the mother type (30x30")
regular price $5,335.00 sale
"the mother type" 

just when i feel i'm drowning in the seas of motherhood...i look out into the field & watch a sandhill crane with her lil' twins, wisely showing them the path, and the holstein carefully hiding her calf in the tall grass. nearby, a neighbor gives her youngest a gentle squeeze, and beneath our serviceberry bushes, a doe gently kisses her fawn. "and now I say, is there not a type in this thing?" (alma 37:45) the mother type, all around me, buoying me up, giving me the strength to float another day, another moment. motherhood is eternal & ever-present...how grateful i am for this knowledge & strength surrounding our family each day.
30x30" oil on wood, 2" deep sides gilded gold, lightly varnished, wired and ready to hang. custom framed.
*** email me (k@katrinaberg.com) to set up a payment plan ***
each piece in this collection is a celebration of those sweet moments in between the hard and unsavory. this exhibit will be a refuge from the unwanted parts of life .that so often visit us all. with their stained-glass shine, each colorful piece will be sweet windows to the soothing natural world and deepest memories in our hearts. peaceful landscapes, still life, flora & fauna, florals in vases with birds & insects hiding within the branches, and favorite places & things that evoke unforgettable memories, will sweeten and uplift all who view them. 
purchase your favorites online only!
artwork will be available for pick up, drop off or shipped free of charge