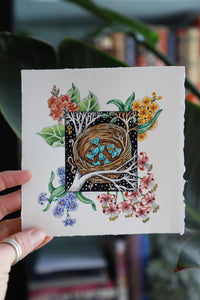 sadie muhlestein - "intentions of the heart" (8 x 8")
regular price $200.00 sale
'intentions of the heart' by sadie muhlestein (ig: @sadiejoym)
8x8 matted watercolor
contact sadiejoy@mulesnet.com for shipping outside the US

we all have the ability to sincerely fill our hearts with our true intentions. then nurture our hearts desire. the key is always in reach and the abundance of our work is the shining reward. hyacinths symbolize sincerity and the key just outside the nest is a reminder that with a little work anything can be unlocked to us.

sadie likes to work with symbolism and storytelling in her watercolor illustrations. she likes to keep the art light and joyful. when she isn't busy creating she's out in nature adventuring with her husband and four daughters.
contact: sadiejoy@mulesnet.com