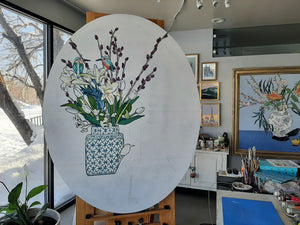 CANDYcolored studio podcast episode 221: 
i'm working away on my giant easter egg of a painting with all sorts of easter symbols and thoughts. i'll leave some progess photos in the show notes. enjoy! do you listen to jenna kutcher's goal digger podcast? she's absolutely wonderful and has so many great suggestions in life and business. hear the 5 questions she says top business owners are asking themselves and each other – and see if they will help you too! we're approaching spring art auction season – keep an eye out for two online art auctions where you can buy my art and so many others' while supporting scholarships for preschool students and artists with the early light institute and vision of the arts. both april auctions will have small original works of art available. if you're listening on spotify, you'll find a song at the end of the episode by the bird watchers, who will be coming to the maxfield's a-frame concerts. our red pill invite this week is to research the WEF/Global initiative's "15 minute cities" – what are they and has your local city committed to participate? watch an interview with chelcie hope and we ARE the people talking about salt lake city, utah's 15 minute city, "the point" that is underway. finally, i'm sharing some spiritual ah-ha!s that i've been experiencing lately – new ways to worship, renew my sacrament covenant and see the jewish tradition of jubilee.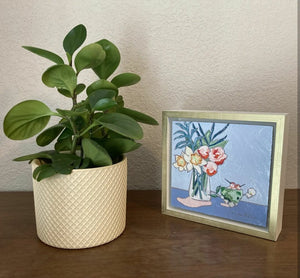 CLICK HERE to bid on "you make me feel so young" at the early light institute
if you've not had a chance to check out the annual art auction fundraiser for the early light institute (providing preschool scholarships for those little humans we love so much)...you can bid on all the artwork (by so many amazing artists) till friday april 15th. @theearlylightinstitute on ig or just go to my feed @katrina.berg and start there. this episode has many mini topics for you: 1. a recommendation for a podcast episode on tools for artists on ig, 2. The first in a mini series about commissions, and 3. a red pill about "the hundredth monkey effect" and a personal connection to the idea in our home just yesterday.