c'est l'été! it's summer! well, we officially survived the 1st week of summer madness. summer with teens & summer jobs are not for the faint of heart but we're embracing all its goodness and soaking up all the learning & time together. in today's episode you'll hear a family & studio update on all the things. i'll also share a podcast episode that will up your artist/entrepreneur game when it comes to business organization. it's my dad's 70th birthday this week and i'll share some of the things we love most about him. lastly, we'll consider a red pill about elon musk, what he's been up to, possibly revealing to us and what it all means for us personally. bravo pour l'été!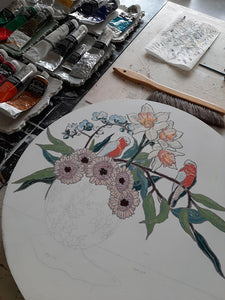 a peek at the progress of a recent floral ;)
today's artist tip is all about "manifesting" but from a new perspective and i found it the most helpful explanation on manifesting that i've come across. we'll also be chatting more about commissions and i'll share my commission process: the questions and decisions my collectors make before i start and what the process really looks like. as for the red pill for the week…we'll be talking all about the water and asking all sorts of questions about safety and possibilities.
Do you love learning? Colorado-based artist Crystal Despain sure does, in fact she's all about continued education, getting uncomfortable to reach new heights in her profession, practice and technique. Hear what she's learned, what she recommends to all creative people and hear about her biggest supporters. It's a beautiful peek into a beautiful artist. Enjoy!
Connect with Crystal: