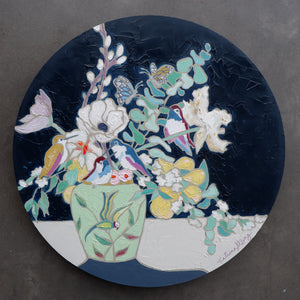 "jardin d'hiver" and "hold heart" 12x12" oil on wood (1" gold sides)
*** "hold heart" will be showing at jrk gallery in provo, utah march 5th to the 26th as part of their "all shapes & sizes" show. contact savannah to purchase or click to sign up & attend the show opening. this painting is named after the song by emiliana torrini.
this is the first part of a series on giving, taking, agency...also, the similarities and differences between socialism & the united order based on a talk by marion g. romney. questions to consider: do we know of any societies free of greed & selfishness? also, those with prevailing peace, plenty/abundance & freedom to all of its citizens? are any left unwanting? does this society promote industry, thrift, innovation & self respect?