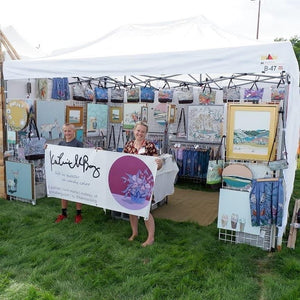 goodbye summer and let's get this fall started! lol. our younger 4 started back at school this week and it's finally quiet enough for me to feel comfortable recording an episode! i'm deep in "swiss days" prep – you'll hear what i'm bringing, tips, and our favorite foods on the square. confessions abound: school to summer break trauma, my low expectations during summer, and ways i've learned to leverage "busy work" or "mindless tasks." some ideas of how to make the most of that time so that you can put the most energy into the things you really want to work on. lastly, a "red pill" about "willful blindness" thanks to dr. aseem malhotra. enjoy and i hope to see you at swiss days september 1st and 2nd! xo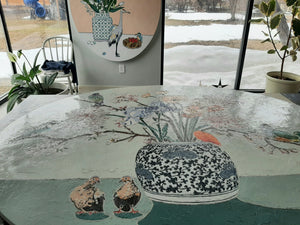 CANDYcolored studio podcast episode 227:
"i wish you love" was created with all the symbols of hope – doves in all sorts of colors from all over the world, irises, poppies and chrysanthemums. named after the song by sarah mckenzie, 48x60 oil on an oval wood board. seeing signs of spring and feeling so much gratitude as the weather changes and animals return to our neighborhood. manifesting goodness for artists embarking on new creative projects & ventures. meanwhile, i've been pondering what comfort i'd be willing to give up to find and embrace truth – does it involve unknown timing and the possibility of getting "stuck"? will cross-training by finding new places to search & learn flex our discernment muscles & help us while we're waiting to find that peace & joy in truth? lots to consider – sending so much love!!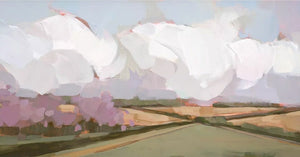 CANDYcolored studio podcast episode 226:
art & soup 2023!! next week: march 28th-30th at the salt palace in slc utah. cns cares has been supporting our local community for nearly 100 years.
they have a special arm of their program that provides home health and care to those who can't pay for it themselves. art & soup is an annual fundraiser to support these patients. this year 60 local artists will be joining cns cares to help make this possible. a portion of all sales will be going directly to the fund. And no, you don't have to be local to purchase art and support this great cause – each artist has a QR code where you can purchase online. listen and watch (on spotify and youtube) 9 of my favorite artists share about their work and what they'll be bringing to next week's show. hear from nancy andruk olson – (who is an artist AND a cns nurse) a personal experience helping a family who benefitted from the fund. she'll be bringing her brightly colored watercolor florals and landscapes created with the paint she makes herself! you can also buy a set of her paints at art & soup. greg newbold will be bringing his gorgeous oil landscapes, whimsy acrylic and oil toy portraits, and keep an eye out for his children's art books that he and his wife amy have created -- they are pure magic! rob chipman is this year's featured artist! his reduction block prints are one of a kind and quite the process! hear all about the details in this fine craft. barb young has been sharing her whimsy graphic artwork locally for 25 years! recently she has started a new abstract series diving into symbolism of color and using specific verbs to guide each piece. hear how she is finding joy in her garden and create art to process grief and other challenges in her life. brandt berntson will be bringing scenes from his beautiful cache valley, vintage vehicles (some with surprising elements like donuts atop) and signs that will make you smile and provoke some deep thoughts. heather holm's paintings bring nostalgia and serenity with her book, movie and special places. hear all about her brand new studio underway and her determination to return to her love of painting. 
brekke sjoblom
 will be bringing watercolor pieces debuting in a new oceanside series, pieces inspired by her photography, and landscapes of beloved local utah spaces.
jenn seeley
is known for her animal art and will be bringing many large animal portraits -- some whimsy and also some with lots of thick paint and texture. she'll also be bringing work from her acrylic landscape series too.
rebecca klundt
has such a unique body of work that is created with colorful scraps of wood assembled into breathtaking landscapes, portraits, florals, abstract mosaics and more. she'll have very small to large pieces and even kits to purchase so that you can go home and create your own. brillant! (click to listen & watch)