CANDYcolored studio podcast episode 230
it's been a hot minute friend! as my solo show debut got closer i ran out of energy to do the podcast lol. but i'm so happy to be back. in this episode you'll hear about the 48x96" "blue skies" painting that includes flowers and birds that symbolize joy and celebration. also, a white rabbit coming out of a cage, doves drinking from a bird bath, a cake, peacock and so much more. soo many thanks to susan and her team at alpine art who've done such a beautiful job with the show. in my podcast show notes on katrinaberg.com you'll be able to watch my recent segments on ksl's studio 5 with brooke walker, an art review article by avery greig on 15 bytes and you can flip through my online catalog of the show. thanks to jessica libor of "the inspired painter podcast" we can consider what "staying in our lane" as artists and entrepreneurs looks like. and a red pill about misinformation or covid myths.
click below to listen to the episode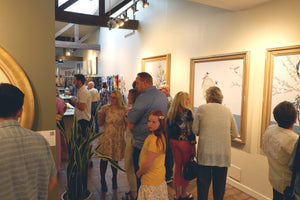 what are your favorite flowers? why are you drawn to them? hear
brooke
and i talk about flower symbols for forsythia, king protea, daffodil & spotted orchids.
go see the show at alpine art & frame until friday june 30th!
alpine art & frame
430 east south temple street
gallery hours:
monday - friday 9 am to 5:30 pm
to reserve pieces in this collection, reach out to myself (k@katrinaberg)
or gallery curator susan bonosconi (susan@alpineartinc.com)