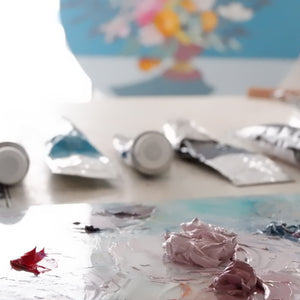 do you love the byu moa as i do?! i have so many sweet memories that began in college and later spilled into visits with our kiddos. this next week i'll be participating in their "Halloween Art CARnival" – an art trunk or treat of sorts – Monday October 24th at 6 pm. Also, a beautiful new home, design, textile, art & apparel shop has opened in Salt Lake with a Scandi vibe full of goodness. is the "starving artist" thing real?! unfortunately, yes. there are lots of ways to avoid it, being more organized, time-conscious, intentional with the events we participate in, making sure our pricing ensures profitability – there's also a "profit first" method that is helping carl and i with our businesses and i think it's another sure way to avoiding the unsuccessful mindset and lifestyle. finally, a red pill on our earth – a list of topics you can check out.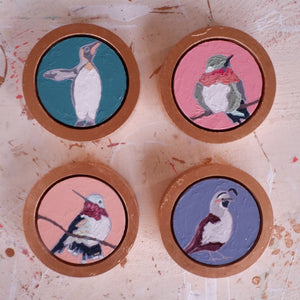 so who's coming to the 100 dolla holla?!
thursday december 5th
6:30 - 8 pm
this is my 5th time doing the 100 dollar show! it gets more exciting every year as new artists participate, some return, it's always an amazing group! this year there will be 
30+ incredible local artists in the loveliest of places surrounded by the most stunning art, and run by the coolest of museum cool cats. 
i'll be bringing mini gold framed circles that look so much like my big ones. they each come with a mini easel! 
and now a lil' FAQ for you lovely friends you: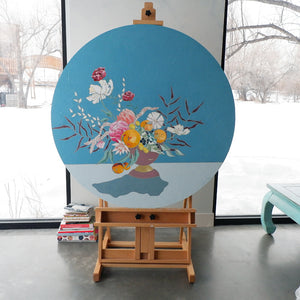 my husband, 5 kiddos, & i just returned from a month together in france. the charming farmhouse we rented sat amidst the rolling hills & farms of the garonne region. as we spent time with the locals: playing at the parks, attending the tiny branch at church, getting to know our hosts, and having new friends over for dinner...our family began to taste the "bonheur" or happiness the french describe: not a fleeting moment of pleasure, but the sustained state of being that connects these moments intensifying the overall experience. truly, it's something that is cultivated, curated, and savored.