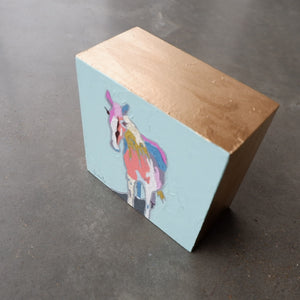 "as long as you're living" 4x4 oil on wood, named after the song by cyrille aimée
in this second part of the series, we'll consider ways to live the united order now and explore more ideas to do with learning for ourselves about these topics. we'll discuss more about marion g. romney's talk on the differences between socialism and the united order. also, experiences with riots & political unrest as well as propaganda, critical thinking -- learning how to think for ourselves instead of merely thinking the way someone else suggests. next week you'll hear a special interview with guest and dear friend: julia lowe. can't wait!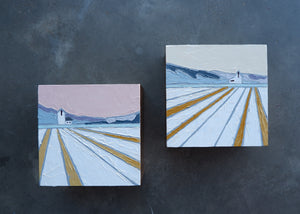 today, i mourn with you dear friend...your personal losses in 2020 that seem to be rolling over into 2021...the losses of your family and loved ones. truly, we all grieve in different ways, and each personal loss can even require a different path to healing. may you find comfort, and the strength to follow your heart...whether it's to stay quiet, to move slowly, or to face the challenges straight on. may you find the best ways to grieve and move forward, that will ultimately bring you the most peace and comfort along your way.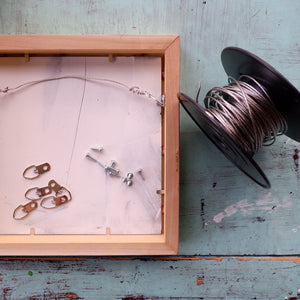 how should i frame, mount, & wire my original painting? where do i put the wire? do museums and galleries have a standard distance and length to attach hardware & wire?
in my experience, galleries and museums i've worked with prefer 2-D artwork to be wired securely, prerably using D-rings (not sawtooth claws). for my artwork, i prefer to have the hardware and wire as close to the top of the frame or cradle as possible to avoid the top of the artwork hanging away from the wall. 
this is my first "crossover" podcast episode/youtube video! keep an eye out for future tips and FAQs asked by artists. email me your queries to k@katrinaberg.com or leave a comment below. 
for an epic journey, join my candy colored membership for artists! i know life is crazy! being a mother of 5 has taught me to make changes to my art biz, one at a time. i will teach you my process and gradually teach you all that i've learned. you'll find that small changes will produce great results! come join us! (enrollment ends in august)
subscribe to my youtube channel and/or to my candy colored podcast and never miss a quick tip or answered question. even better, get on my email list for all updates in my candy colored studio.